The creation of dating apps has its specific features. Before you start the development process, answer the following questions:

What makes your app different from other apps?
Find the most prominent characteristics of your product, otherwise you will have another clone of an unremarkable dating service. Your USP (unique selling point) is what makes you different.


Who is your target audience?
Do you create a dating app for people of a certain age group or a certain place of residence?
Perhaps you are going to develop a product for people who belong to the same religion or who share the same interests. Keep in mind that it's not a good idea to have either too narrow or too wide an audience.


How are you going to monetize the service?
Most created dating apps charge money for improving a user's dating profile. There are also other options: at Tinder you have to pay for expansion of the geographic coverage, at Badoo you pay for seeing who liked the photo etc. Come up with your own idea when developing a new app.


How and where are you going to get the user base? The main problem with dating apps is the user base. It's crucial for a new app. You have created fantastic functional capacities. The user enters the app, but there are no profiles. Or there are no profiles for his city. Think in advance how to solve this issue.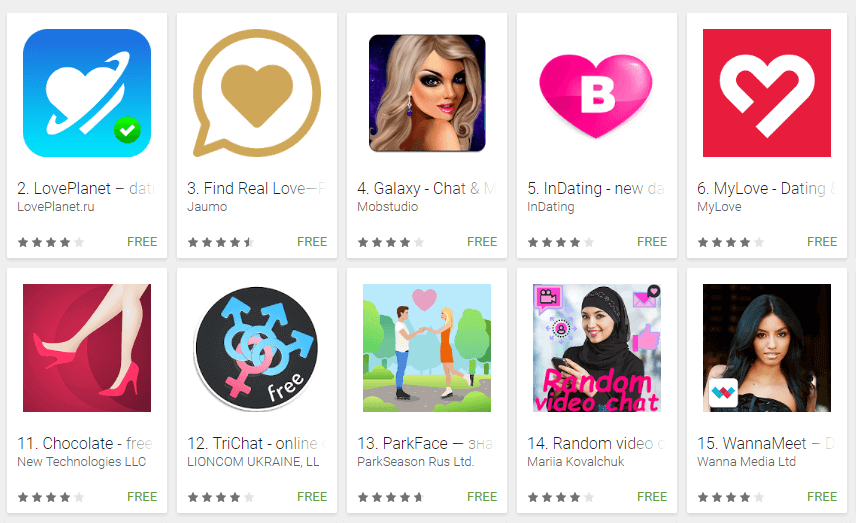 Before you create a dating app: Problem of the first user

There always arises this question when you create a dating app: how to attract the first users?

Innovative functional features and a beautiful interface won't help if there are no profiles and no people to talk to.

A small profile base affects the session length, indicators of the comebacks to the app and app value for the user. Why to pay for the functions in the service if there are no profiles?

Up-to-date profile base is a long and systematic process. But what to do if you have a new app?


Partnership with the existing service.

The top dating services offer special partner programs. They provide a profile base in exchange for the traffic and they share the profits. You can discuss the terms and conditions of cooperation.

Start with small audience.

Start with a small region or not a big niche. You should collect at least 500-1000 profiles within 2 weeks.

Think of viral mechanics.

Dating is not the app which a user is going to share with his friends. But if you want to promote your app, it's important to think of a way the users wish to tell about it. They don't necessarily have to be your users. Just make people and media talk about you. For example, one company had the great idea to use a smart matching algorithm, and anonymous dating and geolocation apps. The result was impressive! Looking at the map to see who was searching for a partner was a WOW function which was in the media spotlight. Mass media attention was attracted to the service devoted to sexually-explicit relationships, called "Pure". Service positioning "only for sex" was original and it was much talked about.

Rapidly receice traffic from advertising.

You can buy tons of traffic within a short period of time. It will be pricey, but it will help you get critical amount of profiles quite fast.
Dating app strategy

Come up with the strategy of your service, the way you are going to react to the unethical actions of the users. You will encounter the dishonest people who will get money from your users under false pretense. Some users will be offering the services including the ones of intimate nature.

There are mentally disturbed and unbalanced people among dating app users. You will be receiving furious letters to your email-box, you will be complained about and asked to look into the matter. All this will have a bad effect on the reputation of your service.

Be prepared for it and take measures beforehand.

'User base burning-out'

There is the concept of 'critical user base'. This is the number of users which is sufficient to ensure the system functions. The task is not to allow the user to meet all the users of the opposite sex. There should be new acquaintances – profiles which were not viewed by the user.

If there is no critical user base, the base burns out. In other words, you have already known everybody, written or met them and you simply have lost interest in using this service.

By the way, this is the reason why dating services are not very popular in small towns. For a small town there are just several hundred profiles, so people meet each other very fast and stop visiting the service.

If you want to create a dating app, where will you get traffic?

The main source of new site users for a new app is advertising.

When you make a dating app, use all available types of advertising:

social media advertising;

contextual advertising;

video advertising;

app advertising on GooglePlay and AppleStore;

banner advertising

etc.
You can use publishing in mass media, but this doesn't have a long-term effect.

The problem with advertising is that it demands money, and this is not good for your business. The more advertising you buy, the higher the cost to attract users is, and the faster an advertising channel 'burns out'.

Dating app economics

While doing promotion you should pay particular attention to the amount of money earned, which should be more than the money spent on the customers' attraction.

The amount of money you earn from an average user (advertising or internal purchasing) should be more than you have spent on users' attraction.

LTV (Lifetime Value)> CAC (Customer Acquisition Cost)
Dating app structure: Let's create a dating app perfectly

Today dating apps are a complex technological service which includes not only mobile apps, but also server apps, desktop apps and additional services. Even though you don't plan to design a web-based version, a back-end part and API should be developed.

This is the example of the architecture for the mobile app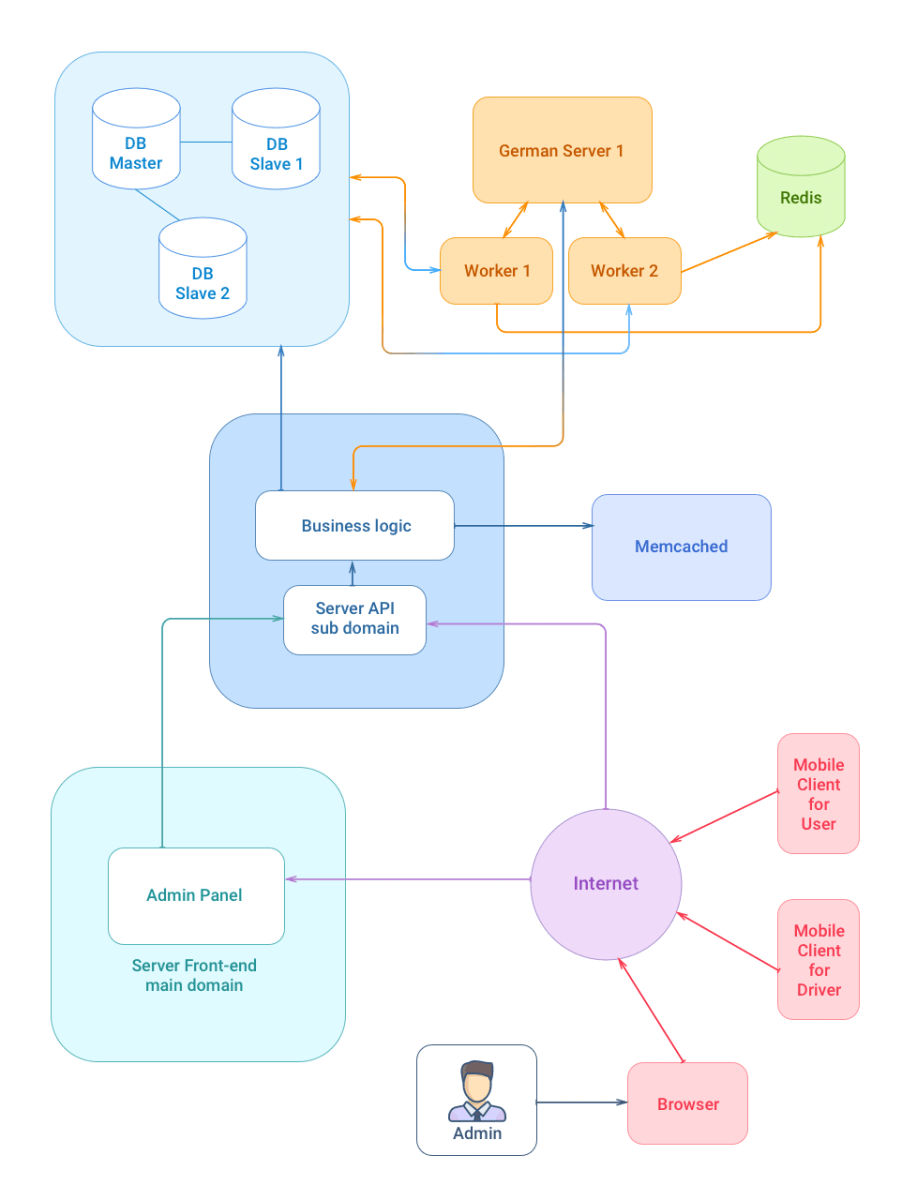 The speed of receiving data and service operation depends on the choice of the database, structure of data storing, and data transfer.

Think of the way you are going to administer the service; work with users and profiles, and user support.

Functions and sections of a dating app

First, the app structure is developed. For example, Badoo app has such sections as 'Dating' where you can swipe user's photo choosing to like him or not, 'People nearby' – which has the profiles of those who are located close to you, as well as the profile of the user.

The app has location filters, as well as age and gender filters. There is also the 'Popularity' section which provides information about profile visiting statistics within a week. As with most apps of this kind you can use the "Messages" section, where you can not only correspond, but also see who you have a liking for and who likes you.

Create a dating app with basic functional capacities
Any dating app should have the following set of key features:

Registration.

Search filters.

User profiles.

Method of choosing the right partner (matching).

Event messages (realtime).

Paid functional features.

Let's take a look into them.

Registration

In the apps which target at real dating it's better to carry out registration via social media. Almost all modern services offer registration through social networks.

Those who don't have an account in the social media, and those who wish to be anonymous, the registration process can be performed through the email box or telephone.

Search filters

Filters help users find partners by gender, location and age. Besides, it's possible to install filters which will allow to see whether a person is currently online, as well as to choose only new users.


Method of choosing a partner

In order to choose a potential partner they use swiping – ability to scroll the candidates' photos, sorting them out to the left or to the right depending on whether you like the person or not. Only those who have mutual attraction with the user can write to him.

Swiping in Badoo:


Notifications of real-time events in a dating app

One of the mandatory functions is a fast notification to the user of his photo being liked, or that he has been written to, or that he has received a gift. When some event happens, the information about it shall be sent to the server. The user receives a notification of the event as a push-notification (in case he is online) or to the email.

Additional dating app functional features on a paid basis

Paid functions are activated on the condition that a user buys VIP-account. Additional functions mostly include the following:

Increase in popularity: your profile is promoted to the first place, your photo reaches the TOP, you get your profile advertised etc.

Invisibility: you can hide your age or location, visit other profiles unnoticed, your presence online can be veiled.

Absence of advertisements.

Ability to go back on your decision as to the last swipe.

Virtual gifts.

Here are some paid functions which are offered at Tinder:



Example of paid services at Badoo:

Difficulties with dating app development: Things to prepare for before you've decided to create a dating app

Users add a lot of photos to their accounts and the server withstands severe loads. In order to solve this problem the priority of some functions can be increased. For example, during the peak hours of using the app it's important to provide users with the possibility to correspond, and get notifications of events. During this period not all the photos in the profiles can be uploaded.

Terms and cost of creating a dating app
The terms and cost depend on the volume of work. On average, the creation of a dating service takes from 4 to 12 months. The cost is from 25,000 dollars.

Are you thinking about creating a dating service? Contact us.

We have developed several mobile dating applications. Some of them can't be shown in the portfolio.