Nowadays, mobile food delivery application is the most cost-effective and efficient way to attract new customers also to increase their loyalty and get real feedback. This is a direct way to increase sales and profits of cafes, restaurants and other catering establishments. Woxapp is ready to help you develop a food order delivery app which would be well sophisticated to boost your profit margin and effectively and optimally increase your brand awareness.
Types of Businesses a Food Delivery App Will Be Useful For
There are two types of businesses for which this application can be very convenient, useful and profitable:


delivery services (logistics and transport companies);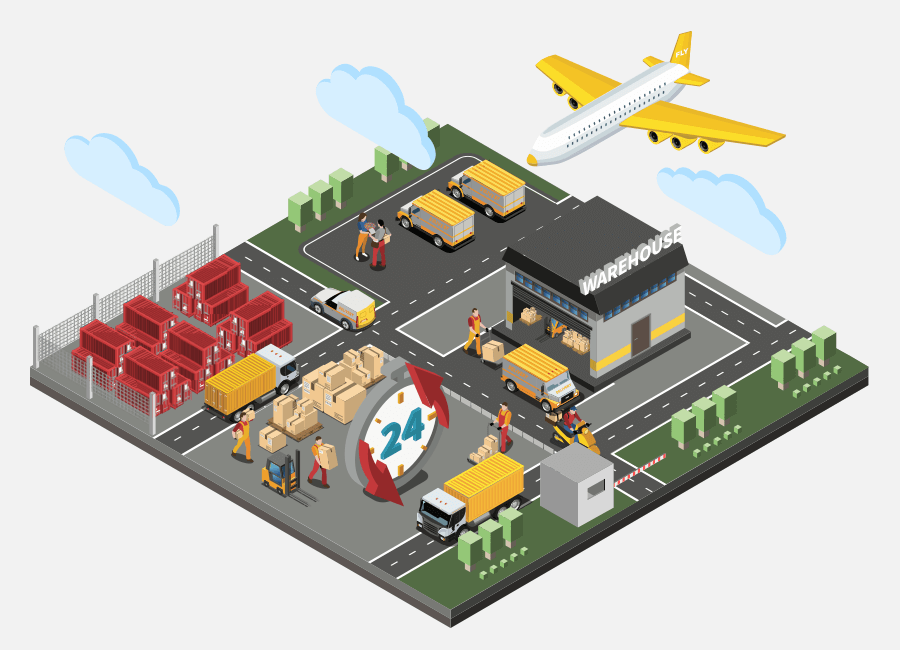 companies operating in the field of trade and catering (online stores of different directions; restaurants/cafes/ sushi bars/pizzerias; delivery of water and beverages, etc.
Users of the application for the delivery of goods are the owners of smartphones who wants to save time and make orders for food delivery, purchased online products, which would be sent to their home or office.
How an App to Order Food Delivery Can Be Used by Businesses?
The application for ordering food from restaurants and cafes is used by chains of food establishments or as a regional startup aggregator, where the user can choose food from many different food establishments. In the latter case, restaurants, and cafes that do not have their own delivery service become partners of the aggregator, which allows them to increase sales through delivery.
The app for delivering food from a supermarket or specialized health food stores is used by food selling companies. Users who value their time and effort prefer to order products home in advance using a mobile application so that they can get their grocery "basket" delivered at a convenient time.
Why Are Mobile Apps for Food Delivery Services Effective?
Apps for food delivery are effective because they are convenient to use, fast to run, easy to navigate, free of charge and engaging. It is critically unwise for the catering business to remain indifferent to food delivery app development when the entire economy is transformed to the side of on-demand models. Modern companies must be flexible in meeting the needs of their customers here and now, and the most targeted way to do it is to create an app for food delivery.

Benefits for a Business
Increase sales. According to an online research, the companies that have already developed a mobile app for food delivery gets 50% of all orders via these applications.

Increase brand awareness. The best way to do this is to respond in a timely manner to emerging user needs and stay in touch with them through the mobile food delivery application.

Expansion of client base, gaining loyalty and trust of the audience to the company and its services. Modern users subconsciously assess companies that already have the application as reliable and therefore demanded.

Constant communication with the client: informing about promotions, sales, receiving feedback, etc. Moreover, you can make your interaction with every customer even more personalized by offering them discounts for their favorite dishes, and come up with other special offers after analyzing their preferences.

Expansion of geography of consumers. It is logical to visit those places that are territorially close. However, the food delivery app has not such restrictions and you can cover the entire district, city or region, simply by creating a food delivery application.

The ability to collect statistics to improve work efficiency. You will get an opportunity to analyze what goods or dishes are the most popular, and which of them are not worth offering. It is also possible to come up with a delivery strategy for the most popular offers in order to give your customers what they like most.

Business processes optimization. This method of ordering significantly saves time for both the client and the staff of the establishment. This will allow you to adjust the number of really necessary personnel and make their work schedule as efficient as possible.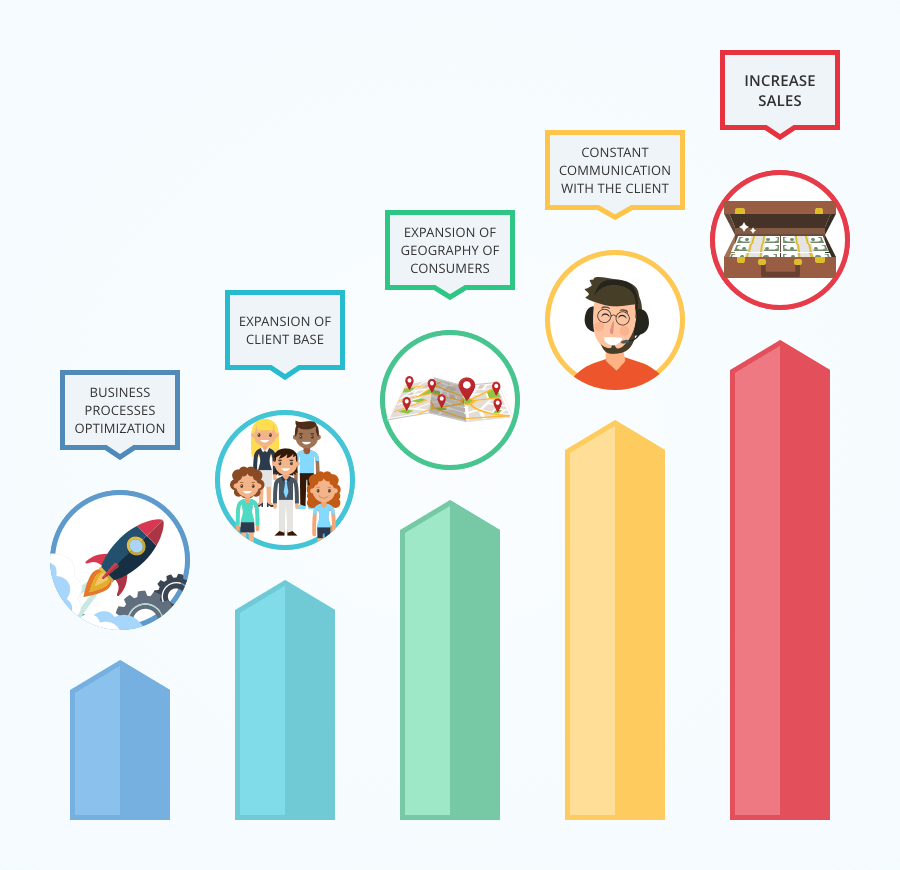 Benefits for Customers

A food delivery app gives users the opportunity to interact with companies in the most convenient and efficient way for both parties to a transaction. Thus, the users of apps for ordering food are able to:
Quickly find the right product. The client no longer needs to wander a whole hour around the rows with goods or study the menu from the first letter to the last.

Take advantage of current offers. With a mobile app, a customer does not have to visit your establishment in person to get latest info, because these promos and news could be advertised on the App or sent at real-time mode to the customer.

Sort establishments/shops by subject, distance, rating. This option give users the opportunity to choose a place that suits them by all it's features and be confident in the correctness of his choice.

Buy at no extra charge. There is no necessity to add an extra charge to the price of goods ordered online and it really motivate customers to work with companies using the apps.

Receive push notifications of news and promotions. It is very convenient to receive personalized promotional offers via push notifications and respond to them by making an order in a food delivery app.
Main Features of Food Delivery Apps
For example, an app to order fast food gives such opportunities to business representatives and customers.

The seller receives:


Company Profile.
Menu items.
Synchronization with the restaurant's accounting system.
Sales statistics.
The expansion of the customer base.
Holding stocks.
Getting feedback.
Discount programs.
Sales of related dishes.

The buyer receives:


A quick search for a specific restaurant/dish in the city of interest.
Advanced search for current parameters: kitchen, price, name, location.
Hot and promotional offers.
Availability of ratings and reviews.
Specification of delivery time and cost.
Implementation of the order and payment.
A personal account with statistics on orders, discounts, and bonuses.
How Do We Create a Food Delivery App
A mobile food delivery application is developed in several stages.
At the first stage, we conduct several in-depth interviews in order to fully understand the company's business processes, analyze the situation on the market and assess the potential demand of a food delivery service app. After that, we define the minimum functionality necessary for the quick launch of MVP.
As a rule, MVPs are created for one particular platform in order to test the hypothesis about the response from the target audience.
These opportunities allow a business owner to analyze real statistics and make a decision about the expanding of a food order app functionality. We foresee these opportunities initially at the stage of building the project architecture in order to implement new functions as quickly and efficiently as possible. We develop all projects based on the principles of clean architecture and this makes us flexible in view of the rapidly changing technologies and the emergence of new marketing goals of the client. All the projects that we create have a built-in possibility to be integrated with already existed accounting systems as well.
Our capabilities allow us to develop a branded food delivery application for one restaurant and an aggregator as well. It is also possible to create an app for multi food delivery for a separate delivery service, including dozens of different companies in the search base. Thus, it is possible to add several institutions, shops, etc. to one application.
Food Delivery App Development Stages
Product idea and business expertise

Customers come to our company to implement their idea to create an online food delivery app, web resource or automate business processes. We conduct free business expertise, advise the client and refine the ideological component of the project, taking into account the needs of users.

Project evaluation and an offer

The project is evaluated by the development team. After that, the client receives a preliminary offer to make an app for food delivery.

Prototyping

Understanding what users expect from the application, we proceed to the prototyping process. The competently built interface is a guarantee that the user will quickly find out how the food delivery application will help solve his problem. You get the opportunity to see the functionality of the future food delivery app without the software part.

Product design

We draw the design of all screens and element states. We use the recommendations of Google and Apple to design the application. We make sure that the graphics solutions are clear and easy to use. You get a design that sets you apart from the competitors.

Backlog and development agreement

We meet with the product-owner to discuss the details of the project. The team develops backlog for the entire project together with the customer. After approval of backlog, an agreement is signed.

Sprint planning

It is an agreement with the customer about what development tasks will be performed at the next sprint.

the project is not completed

Retrospective

We demonstrate to the customer the results achieved in 2 weeks. The team analyzes the risks and problems, completes the sprint, optimizes the further development process of the application.
Food Delivery App Development Cost: Let's Discuss It
The cost of this application depends on several factors and, above all, on the complexity of the work. There are the following factors which form the price of a food delivery app development.
Functionality. The more the functions needed to be realized within your app, the higher the price will be.

Platform. If you need to create a food order app only for one platform, for example, Android, then it will be not so expensive but if you want the owners of all smartphones, iPhones, and iPads be able to install the app, such a system will cost more.

Technologies. The list of technologies that should be used to create your project also directly depends on the platform your app will work for. Below you will be able to find the approximate list of tools that can be used for food order app development.

Design. The cost is also affected by additional requirements for the design like a presence of corporate style elements and so on.
Our Approach to Food Delivery App Development and Technologies That Can Be Used
We have already dealt with food delivery app development and this experience allowed us to come up us with an approximate stack of technologies that can be used in on-demand projects creation.

Back-end


Programming languages: PHP, NodeJS, Go
Frameworks: Phalcon, Symfony
Caching system: Redis, Memcached
Queue server: German
DBMS: MySQL
NoSQL DB: RethinkDB, MongoDB

Front-end


Programming languages: TypeScript, JavaScript
Markup Languages: HTML5/CSS3
Frameworks: Angular, Vue.JS, EmberJS
Preprocessors: SaSS

For Android


Java, Kotlin programming languages
Realm, Room databases

For iOS


Swift programming language
Realm database

Keep in mind that this list of technologies is incomplete and contains only the most necessary instruments that can be used. We do not accept templated solutions so we will be able to make the final decision on what technologies should be used to create your project only after we have analyzed the specifics of your business and the features you want to realize in your app. This will also directly affect the cost to create a food delivery application.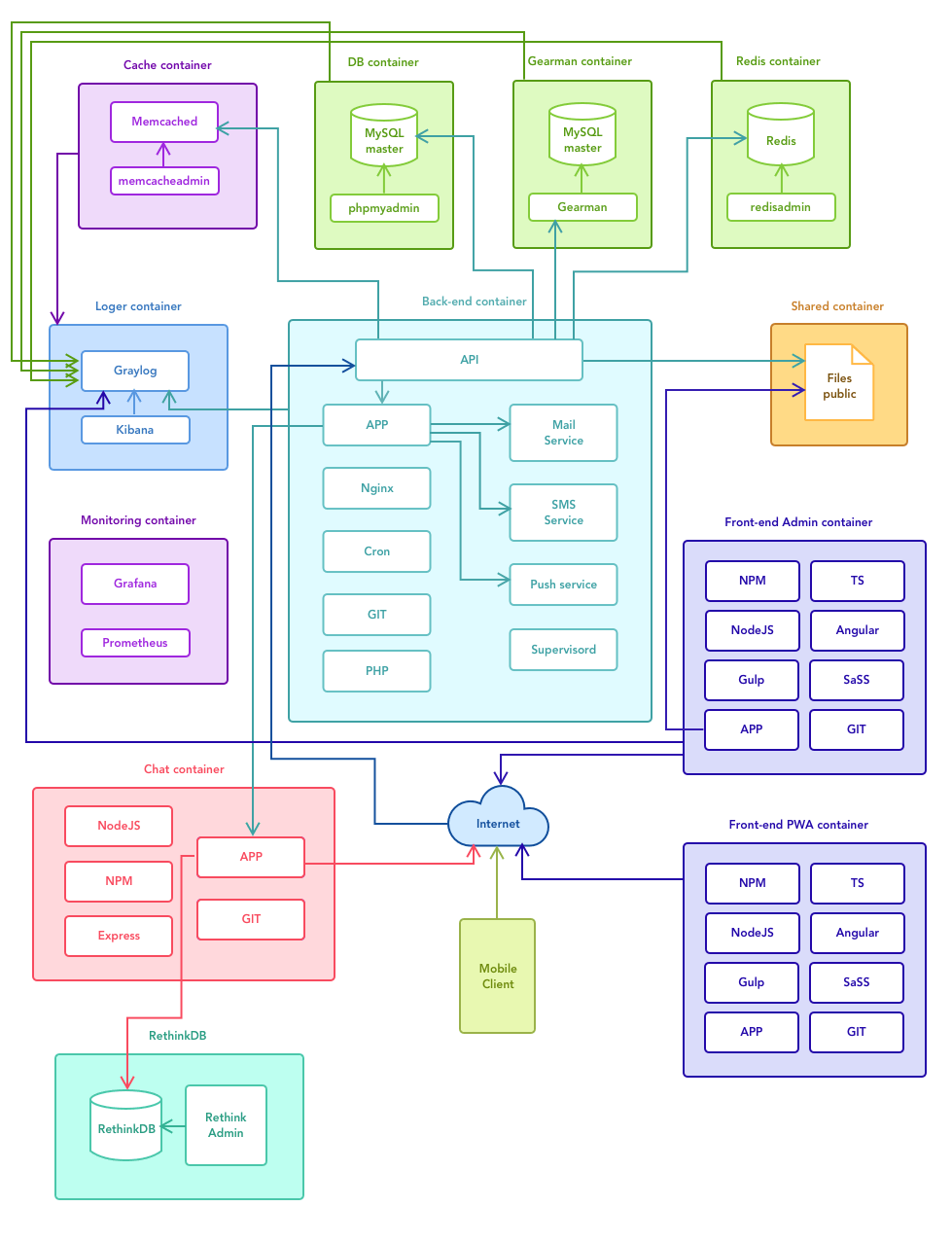 Results
Thus, food delivery applications are a modern way to stay on the on-demand wave of and a great opportunity to meet the needs of their customers earlier than competitors. In any case, you will become closer to the buyer by running your own mobile order food app or by adding your company to a new mobile aggregator. Do not stand aside and make a preliminary calculation of the cost of your future food delivery application right now From our part, we are ready to discuss independent conditions of cooperation with each company.