Learning Management System for Educational Institutions: All You Need to Know
Learning and teaching are going online and this process is unstoppable. It's no surprise that schools, universities and other educational institutions want to make learning experiences more useful and friendly for teachers, students and their parents.

Learning management systems (LMS) are one of the most interesting and handy tools for learning nowadays because they widen the educational process from the classroom to the whole Internet.

The main idea of LMS is to simplify the process of learning and teaching. It creates an innovative environment for all members of the educational process. Using mobile devices, computers and the Internet for schooling is natural in XXI century, why not use them in a centralized way?

What LMS actually is?

Learning management systems are used for online schooling. A bit unexpected, isn't it? But there is a goal. They're not just for schools — big companies and governmental organizations also use them to keep operational of their staff.

LMS helps to gather fragmented elements of the educational process in one solid and complete system. To put it simply, you have access to any part of training using just your smartphone or PC.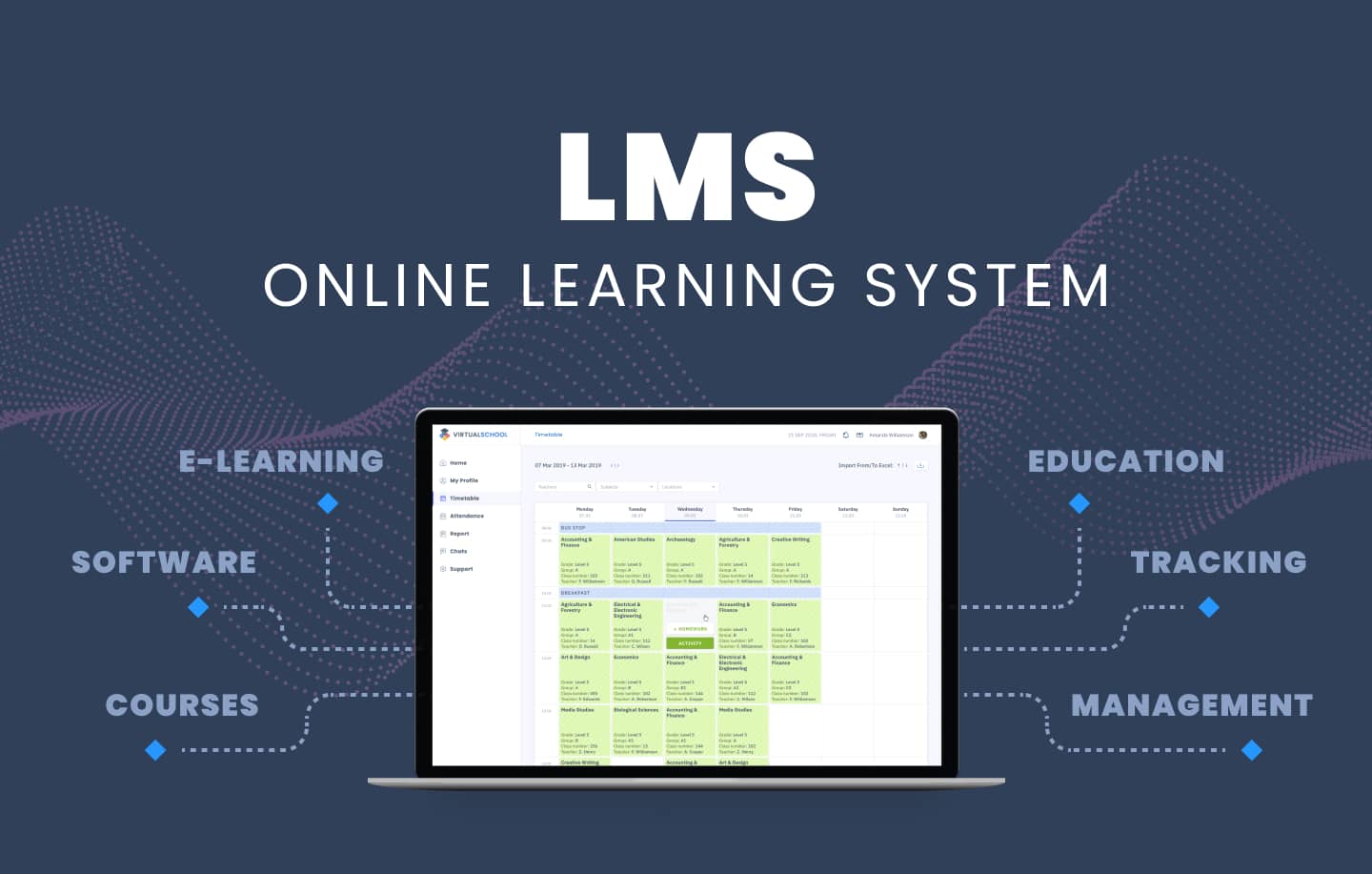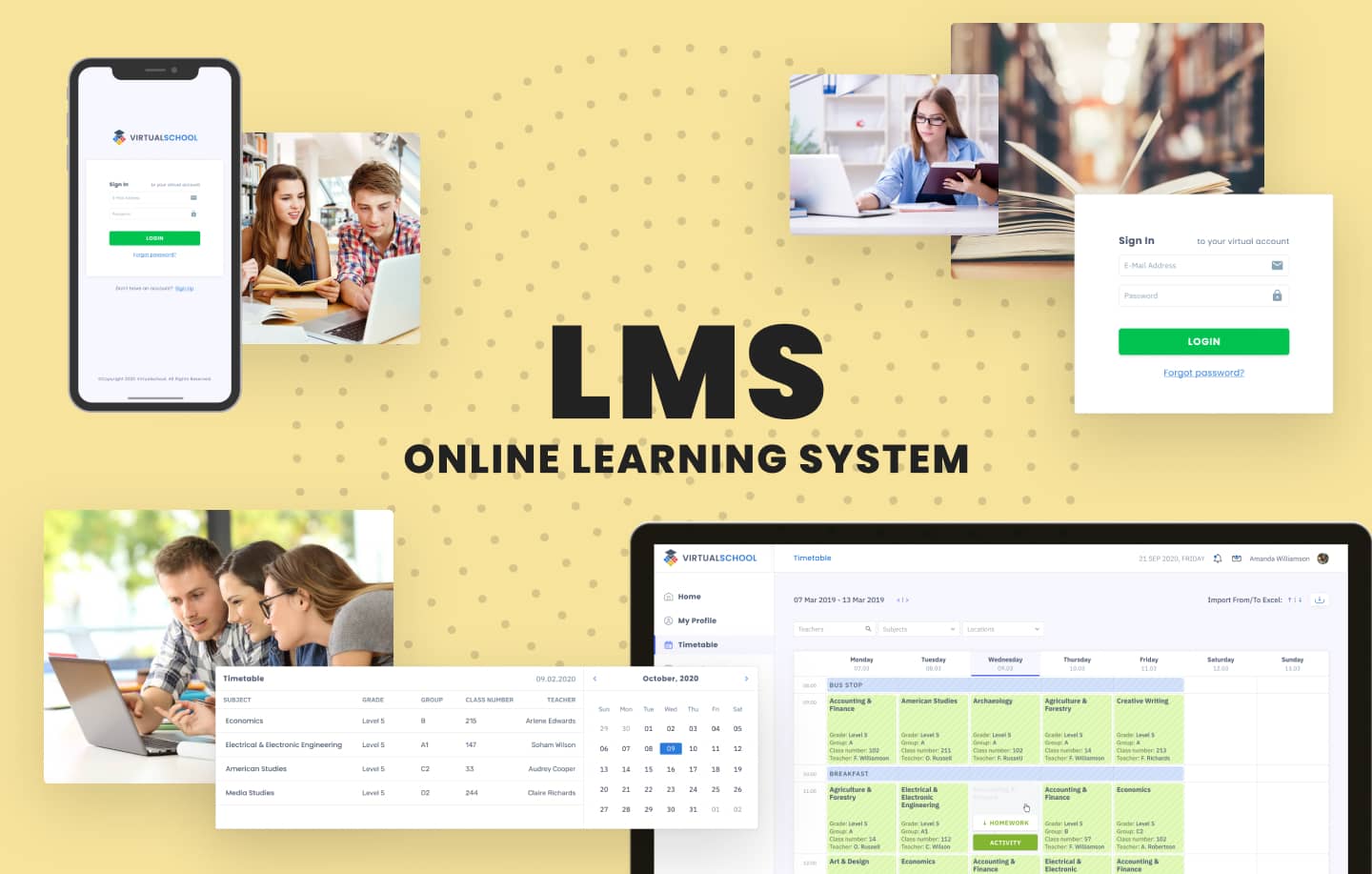 LMS are often implemented in:


Educational institutions. Schools, universities, other out-of-school educational facilities — all of them need to harmonize the process of studying and teaching.
Big companies. They often use LMS to train employees. It's really useful to have a complex system, where team members are able to advance their skills and upgrade qualifications.
Governmental organisations. Complex tuition systems with strict rules and absolute traceability of each officer help to improve skills of public employees under the control of managers.

These three types of LMS are pretty different. The second and the third ones should be useful for employees, but their bosses work only with analytics and results of these studies — they are controllers, not users. The first one is a bit more complicated, because it should be handy for teachers, students and their parents together. There is no governing body, which controls the system — it's controlled directly by these teachers, students and their parents.

Now we're talking about learning management systems for schools. So fasten seat-belts and let's fly.

Project structure and technologies

Here you can find the structure of the project and see the technologies used for development:

User roles in LMS

To make the system work as it's meant to be, each user has his own role. It's important, because teachers and students use different resources of the system and have different rights.

The main complexity is to keep balance between all users. It's a bit harder than it looks.

Let's define all user roles which are used in learning management systems. There are four main options:


Student. Common user with simple rights.
Teacher. Advanced user which is able to control the educational process, create courses, give homework, post grades and other actions that are obligatory for the learning process.
Parent. User with observer rights only. It's connected with a student account and all information which parent has access to is only about this student.
Administrator. User with root access, which has all rights to control and change the educational process.

Student's account

User has basic permissions and rights that allow him or her to participate in the educational process.

To login as a student, you need to provide «Student» account type credentials when signing in. Type your login and password and push the «Login» button.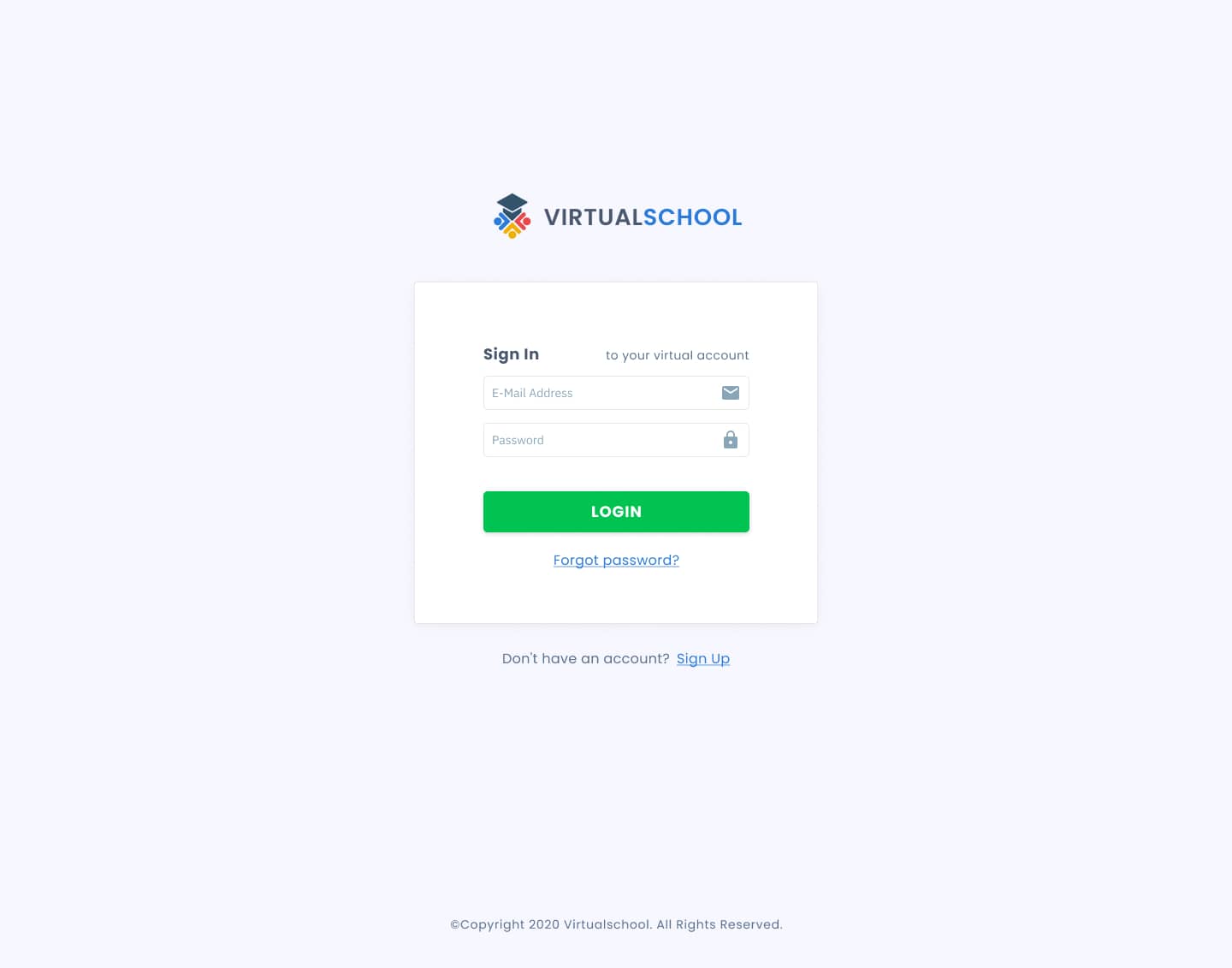 If the login and password are correct, user enters the main page of LMS, which is called dashboard. A student has the right to read information on this page and to see his schedule for the following week.

All important events are displayed on the dashboard, so students are able to plan their activities more properly.

To reveal more information about any event, a student should just click on it. All data about this event will be available in the new window.

The calendar is the main instrument for a student. Because with its help user is able to:


See detailed timetable and find out about any changes therein.
Download homework for each class. If there is any, a student will see a specific mark near the name of a subject.
See his visiting statistics.
See all grades that he has earned on the lessons.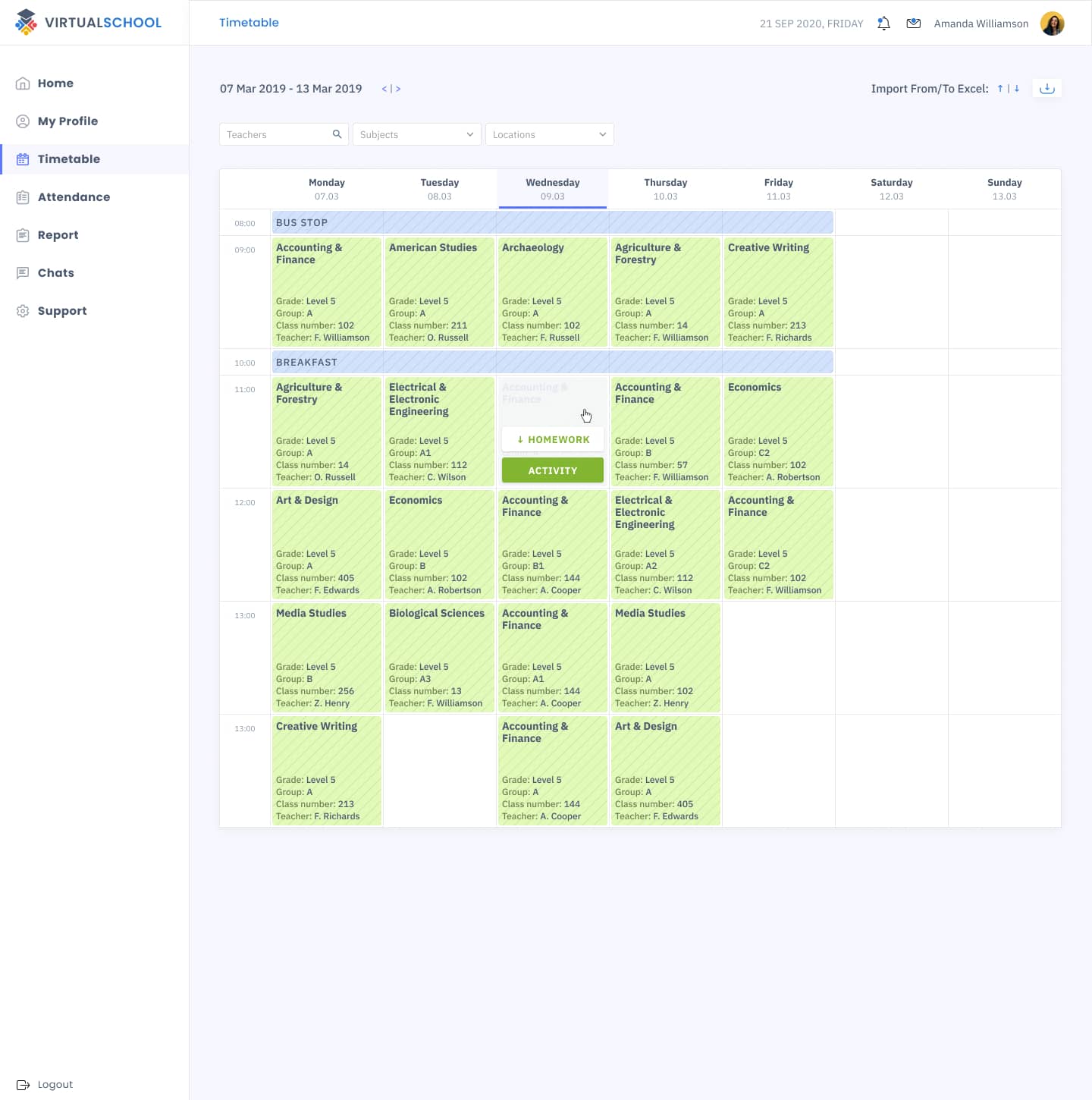 A student also can create reports about his academic progress in general and for any selected subject in particular.

It helps him to plan studying activities more carefully and gain better results. Users are able to get back to any lesson and remember what any bad of good grade was earned for. So a student can prepare for the test or examination better.

The set of LMS tools for «Student» account type is utterly simple and clear, because these users are foremost students of primary and secondary school. App must be user friendly and intuitive to simplify the work with the system.

Parent's account

This account type is connected with the «Student» account. Both of them have very similar functionality with subtle differences.

To login as a parent, provide «Parent» credentials when signing in. Then type your login and password. Pay attention, that parent's account is always connected with the student's one. Parents also can keep an eye on a few student accounts, if he or she has two or more children studying in school.

Parents also can see the dashboard, it's almost the same that the student's account has. It just has a bit of a different visualization.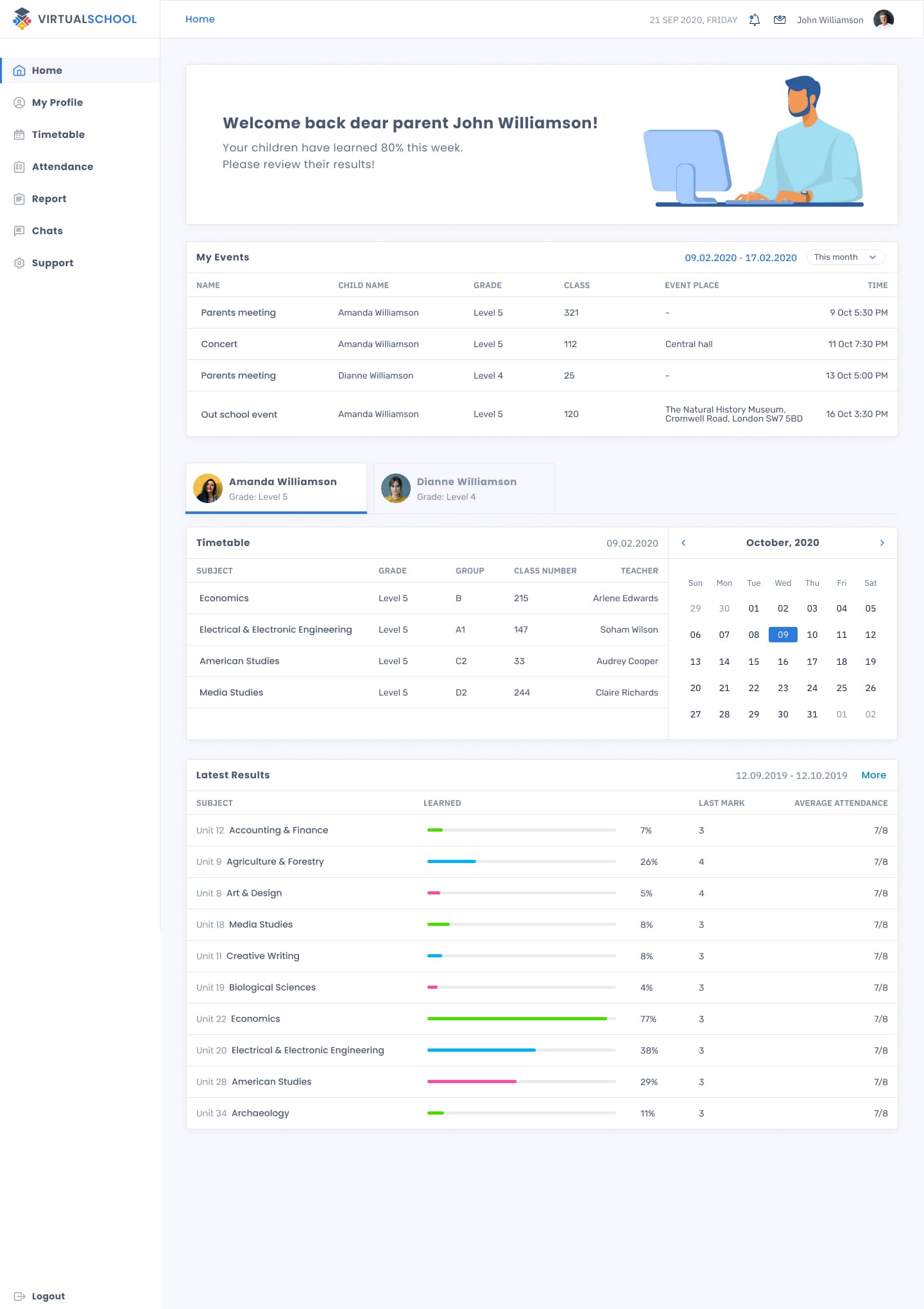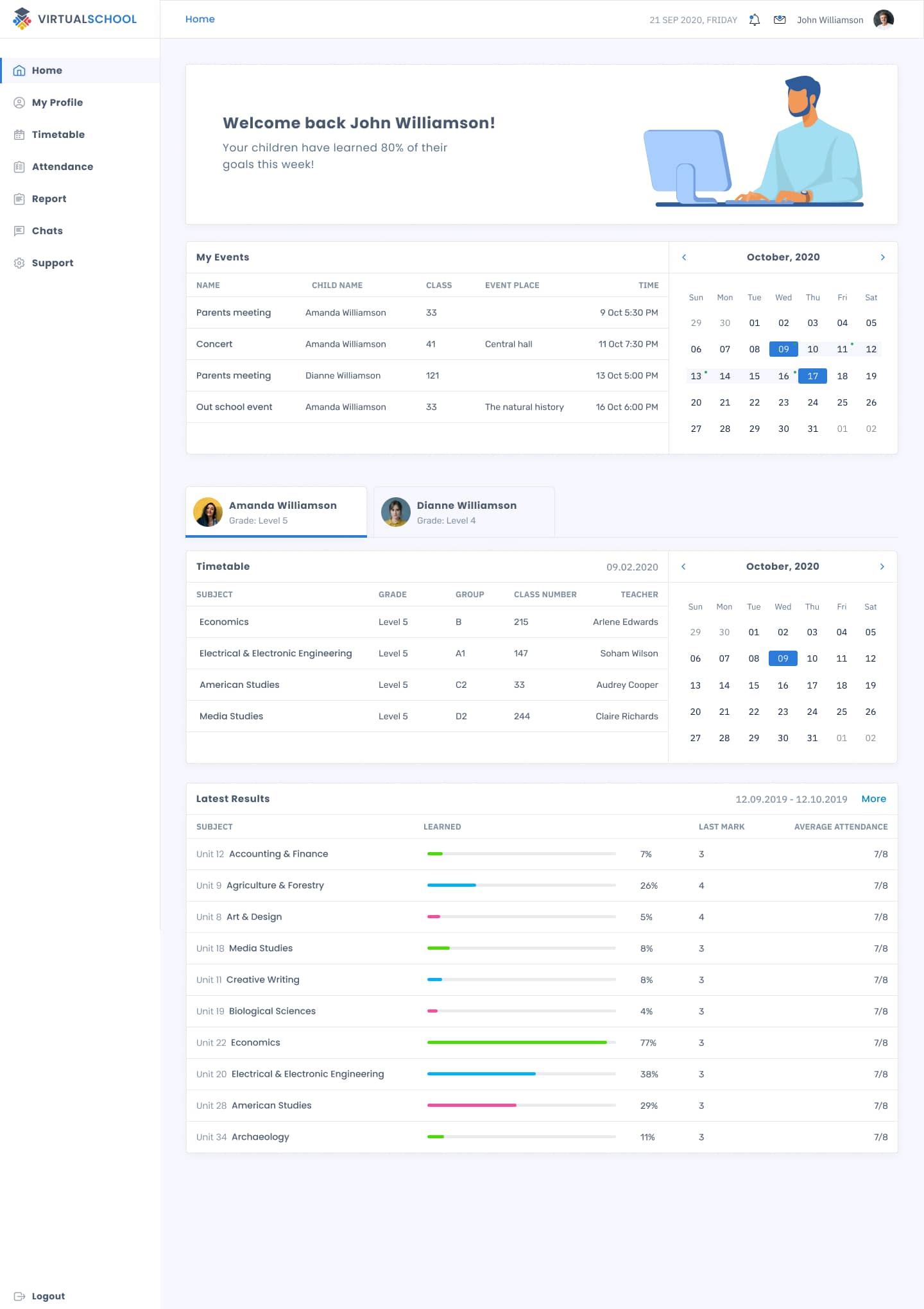 The main function of the «Parent» account is control over a student's academic progress.
.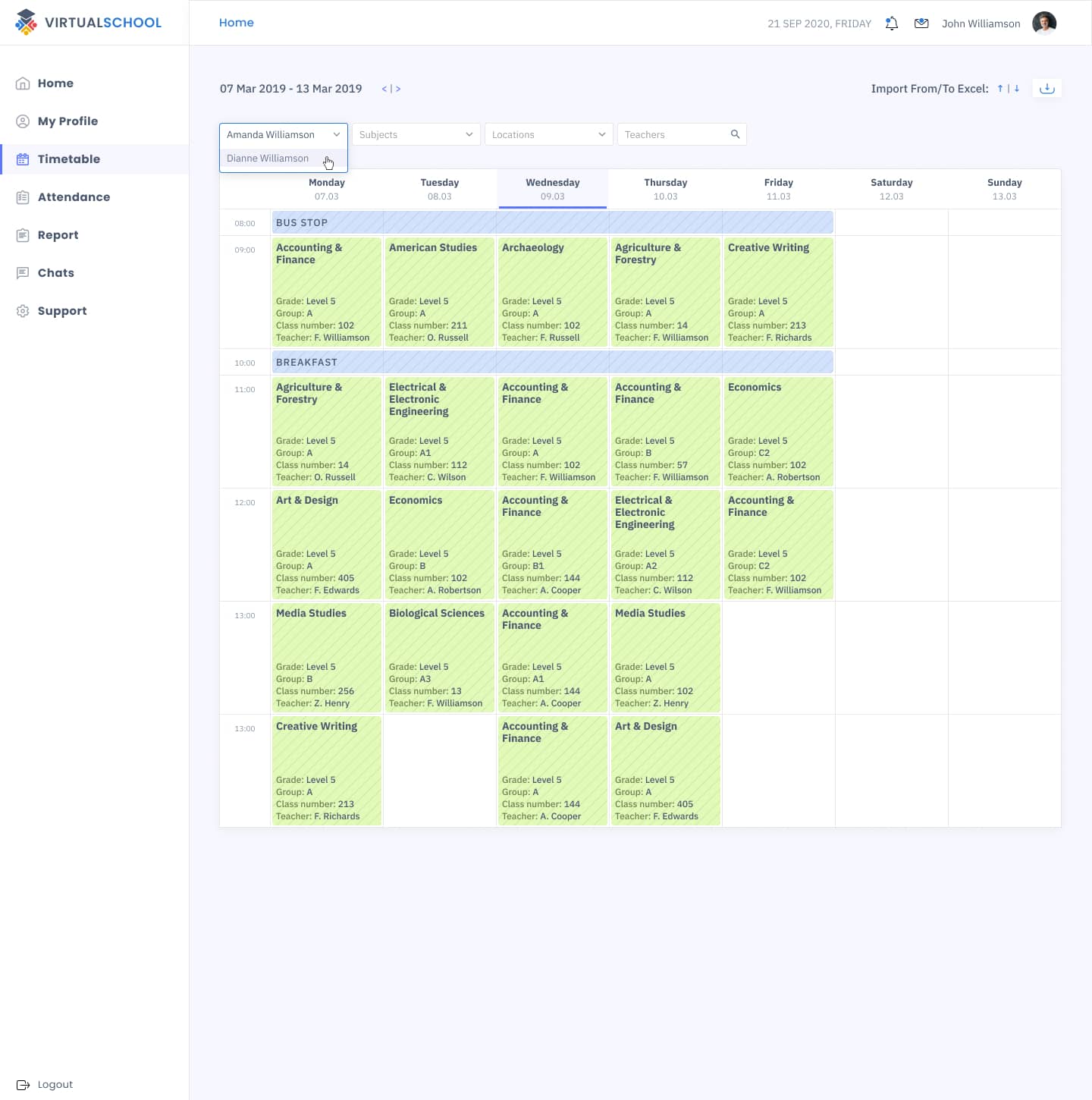 The calendar for «Parent» has the same view as for «Student» account. User with these rights is able to:


Check student's timetable and watch any learning or afterschool activities he or she is involved in.
Always know whether there is some homework or not. Your kid won't be able to hide its existence in order not to do it at all.


See the visiting statistics of the student and his grades earned on the lessons.

Parent account is also simple as possible, because it was designed for use by a wide audience that often has rather poor computer literacy.

Teacher's account

Teacher rules the learning process within the edges of the subject that he teaches. But he has much more features than students and parents. Such account is harder to administrate, so that's why each teacher who is supposed to work with LMS should learn how to use all of its features correctly.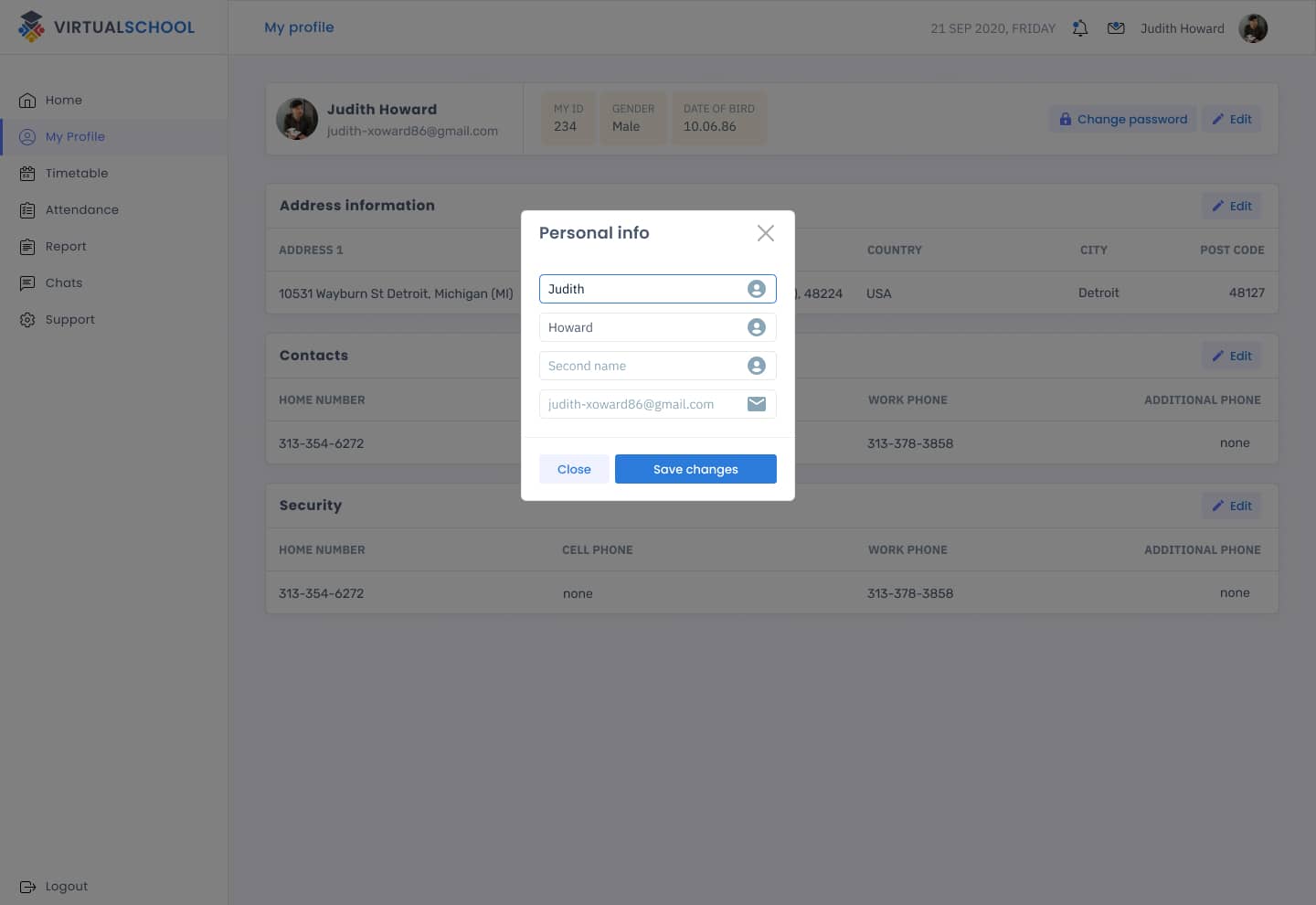 To login as a teacher, you need to provide «Teacher» login and password. Teacher's dashboard is different from student's and parent's ones, because it has specific buttons which allow him to create and change events and edit the profile.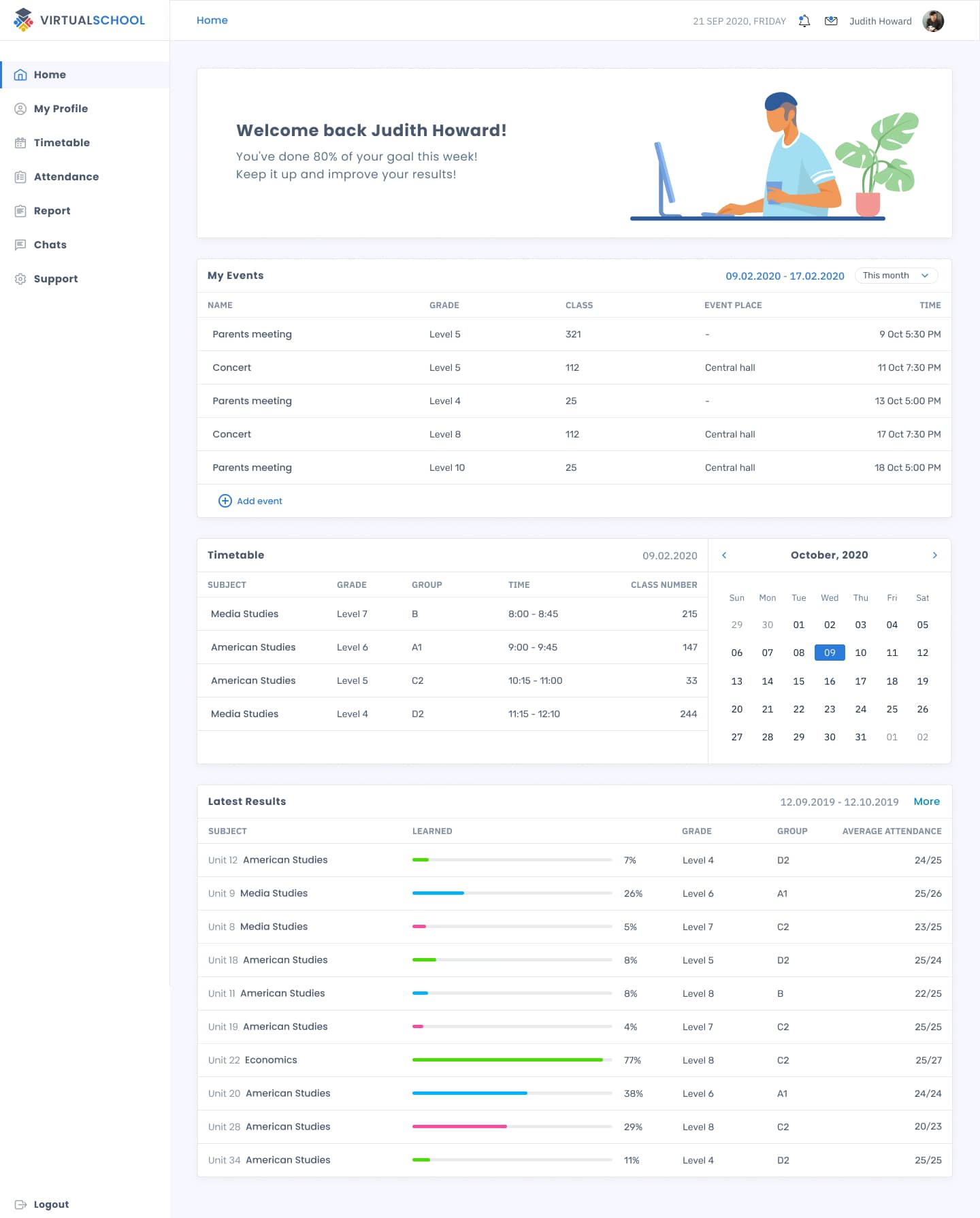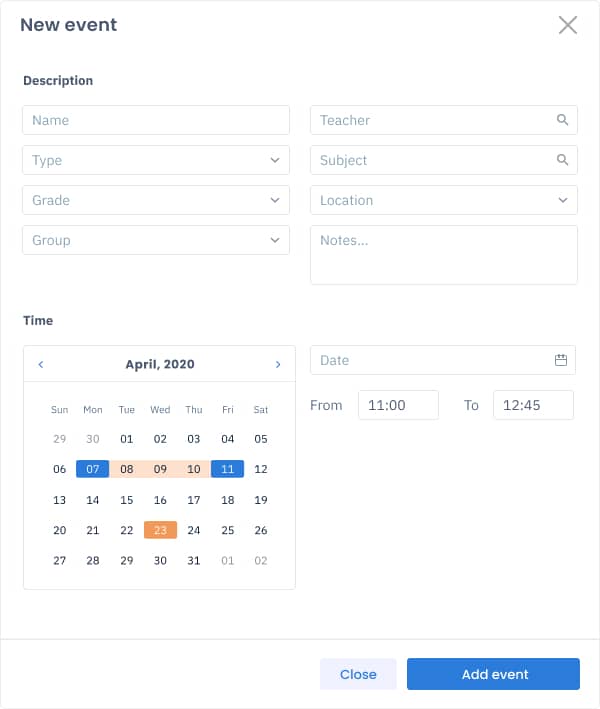 For example, if a math teacher needs to give an additional lesson for C-grades, he can easily create an event. Here also different out of school activities might be specified. Teacher has to add a date, time and subject of this event, define its participants and location, and give some brief description.

If there are some problems with event generation, the teacher will receive a notification with an offer to change certain settings.

For example, a teacher has set the date (14th, April), time (11 a.m.) and classroom (#304). But the system warns that this room is occupied at this time, so the teacher must change the settings and find free room or set the new date or time.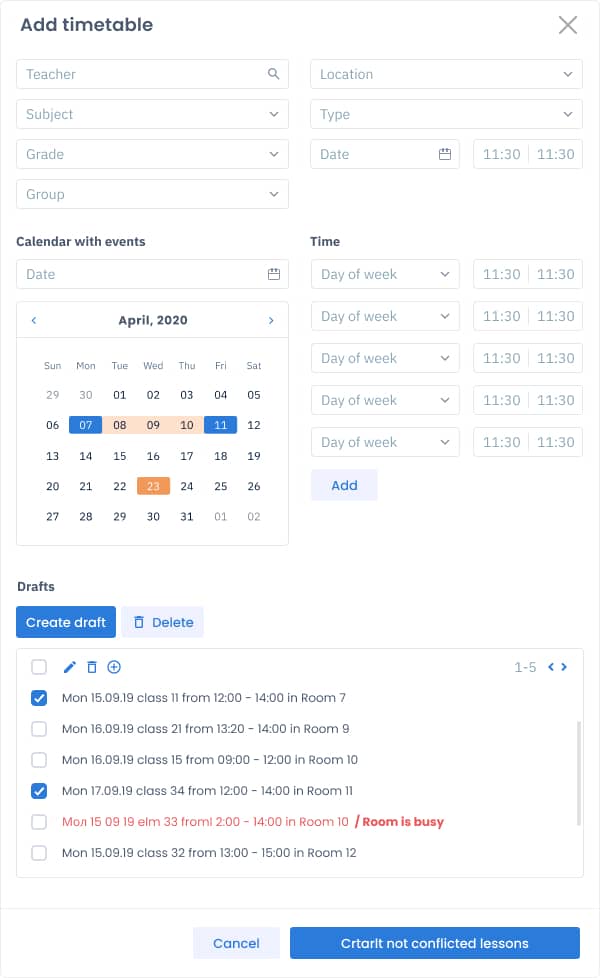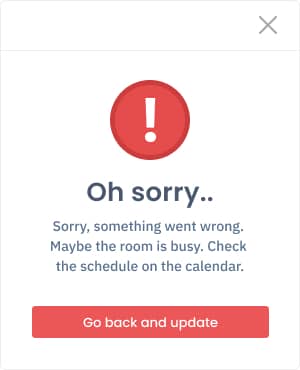 Teachers can check their lessons in the calendar and should mark them as regular classes, tests or exams. All students will see these marks. Also some comments can be added to them if needed.

Teachers have the right to upload and attach homework to any lesson, post grades and marks who was present. But these marks are opened only for whom they're intended.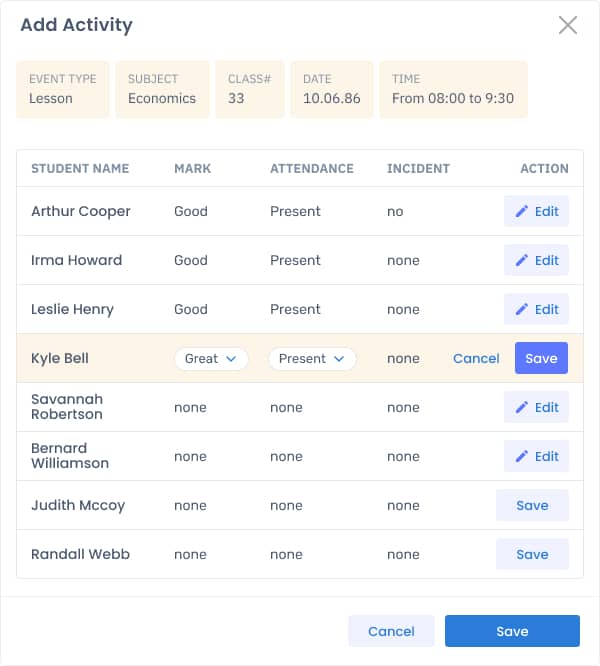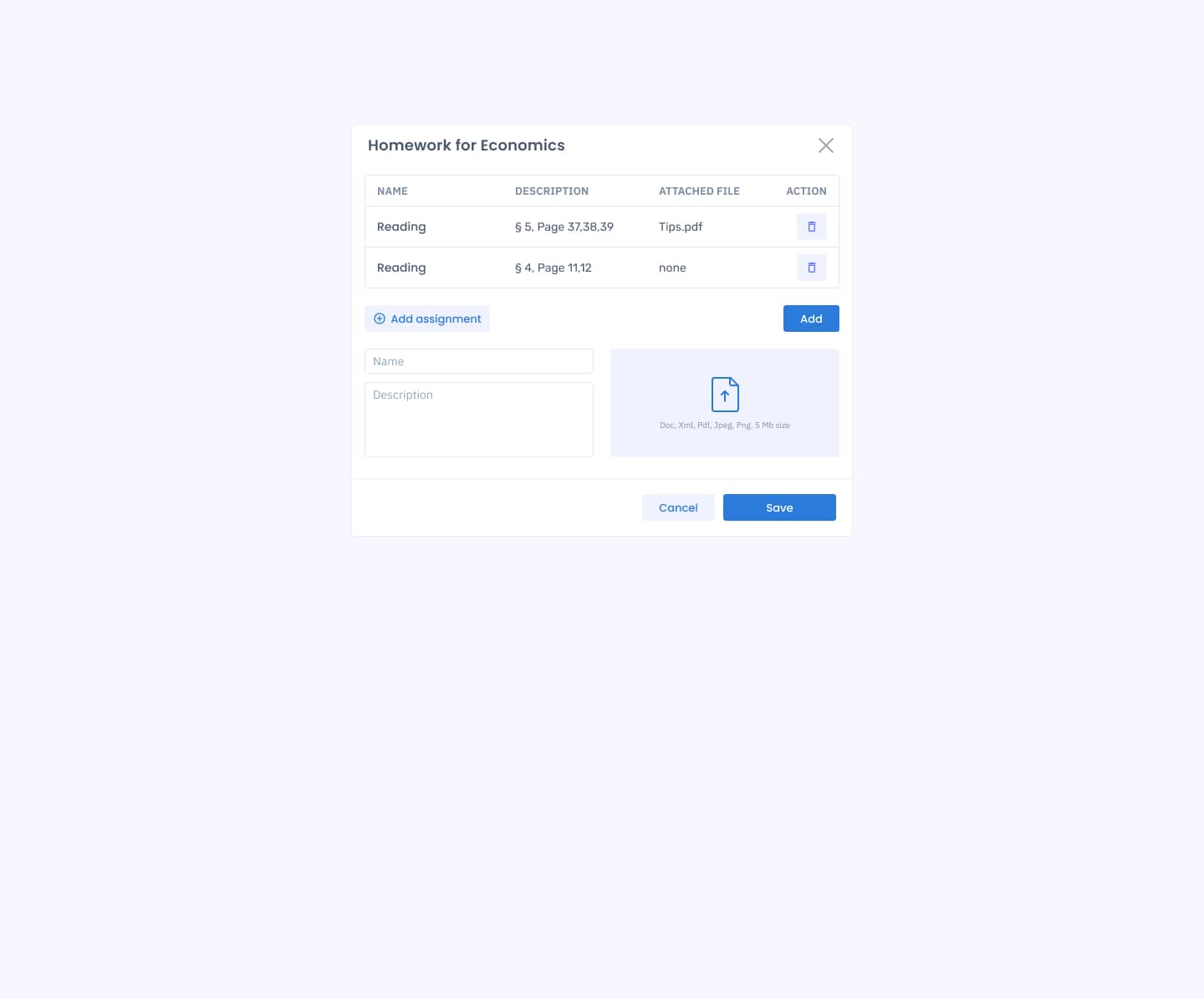 Also the teacher has access to all statistics of his students and he is able to make reports for marks and progress either of some student or all of them at once.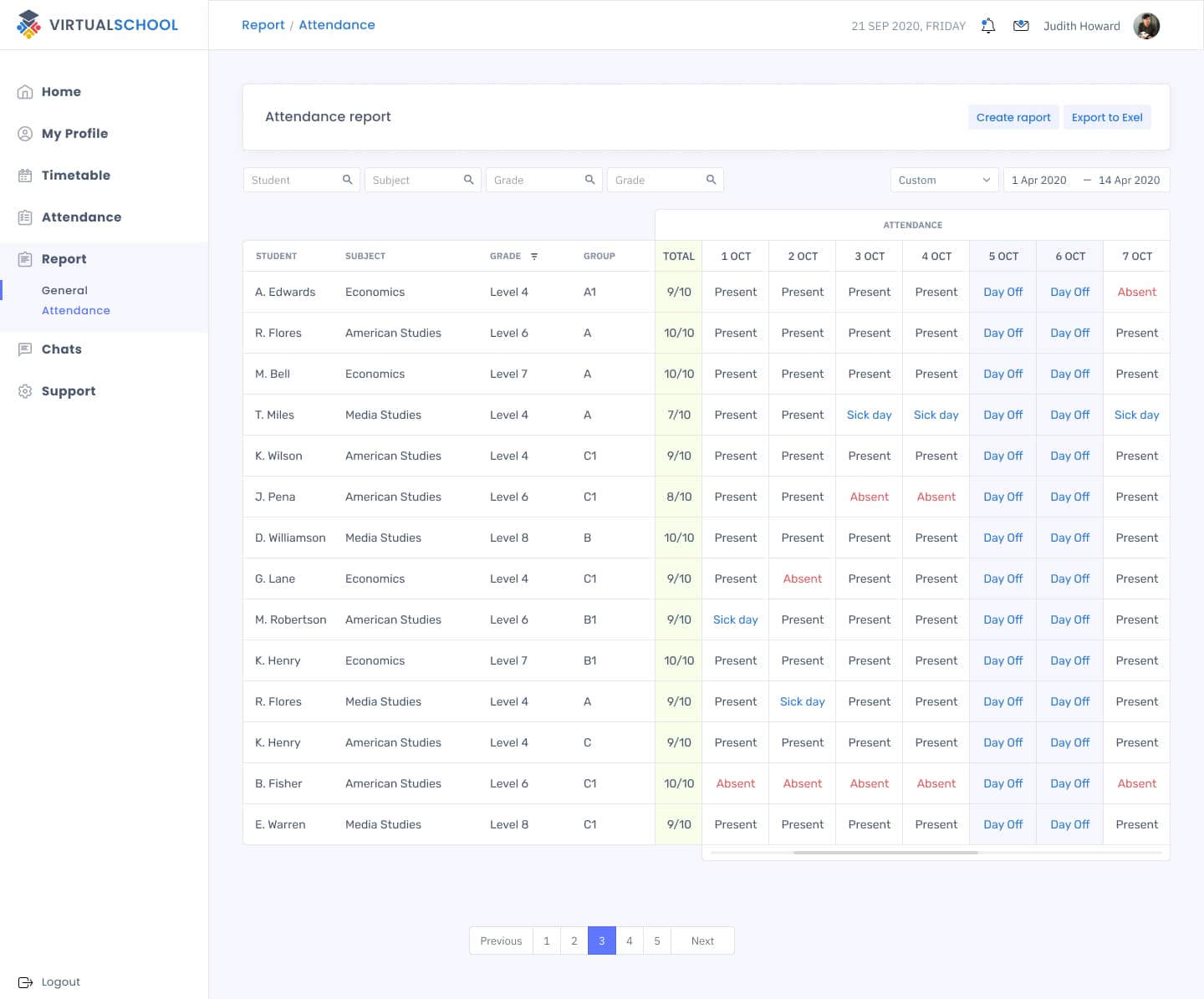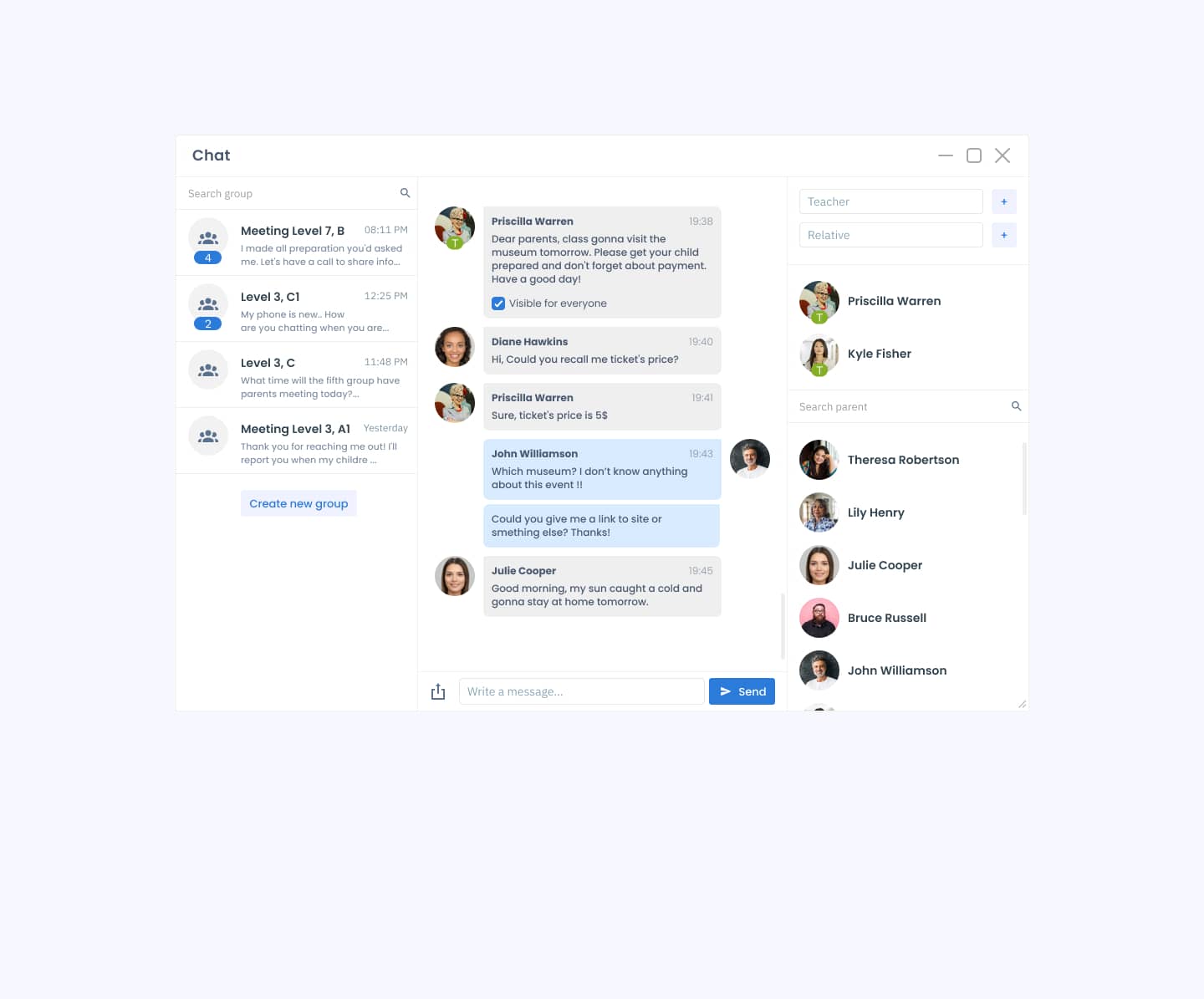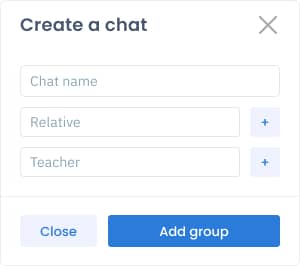 Administrator's account

Admin has root access to all tools and instruments of LMS. He controls the activities of all users (students, parents and teachers) and manages the system in general.

Administrator's dashboard is almost the same as the teacher can observe. But admin has the right to change its shape and content, add and shuffle different blocks.

Administrator can see all events for all groups of students and teachers in the calendar, but he also has a number of additional capacities to manage all groups of users: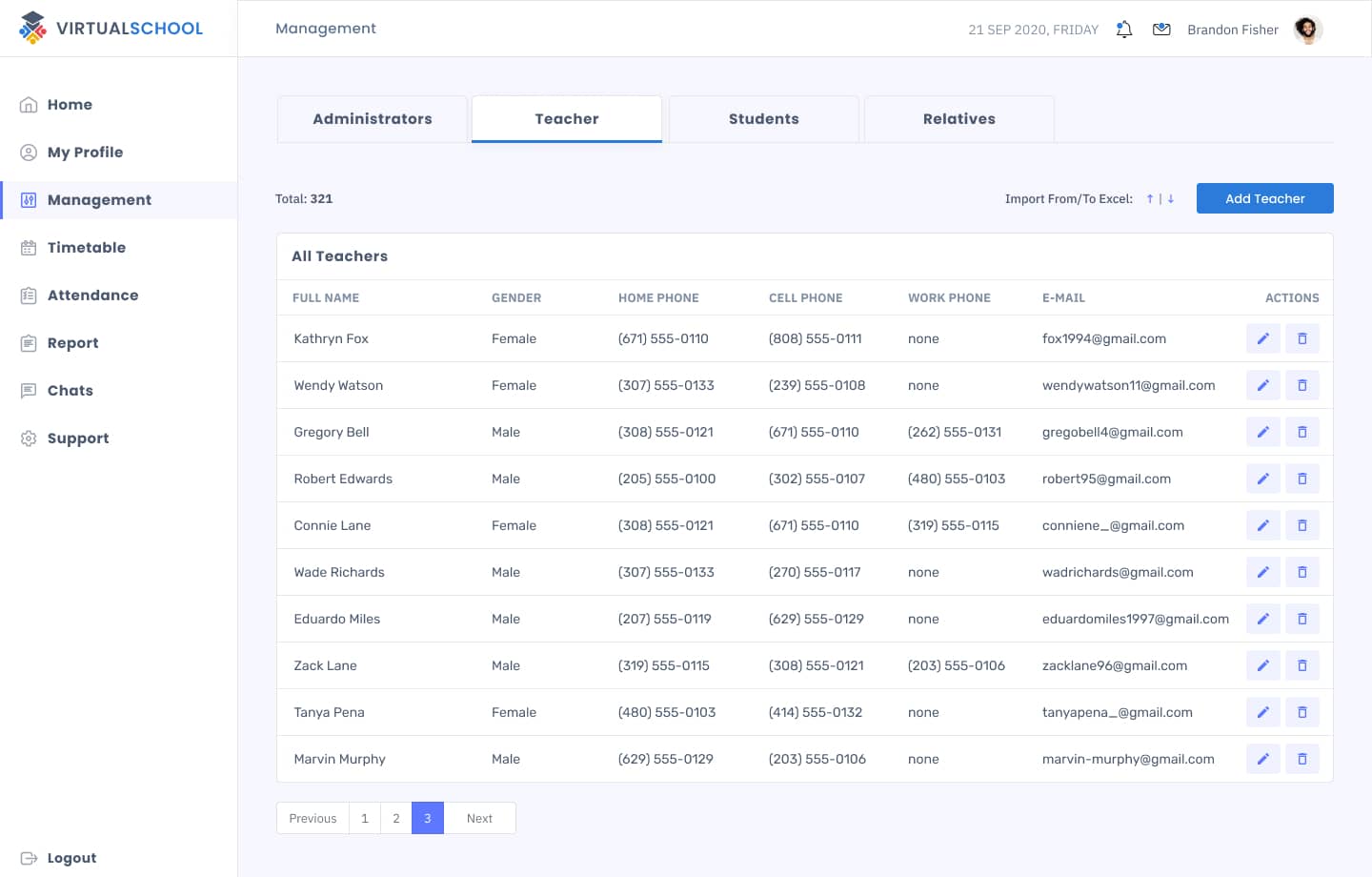 to add, edit and delete teachers, students and parents. Learning management system is a kind of private app, so it's not possible to sign up from outside — all applications go through him.

For example, that's how the process of adding a teacher looks like. Administrator has to specify all information about him: name, date of birth, subjects, contact data, his documents, certifications, and other. Users are not able to change this information by themselves.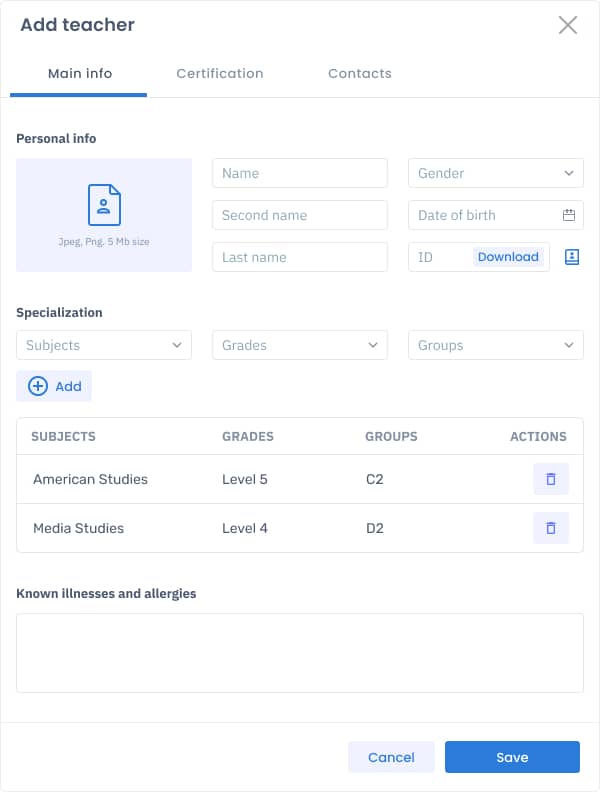 And that's how the adding of a new family looks like. Pay attention, all members of the family are adding at the same time to avoid any possible confusions with student-parent relations in the system.

There can also be other relatives that have access to student's information. For example, grandparents or adult siblings. But they can be added only for demand of a student or his parents.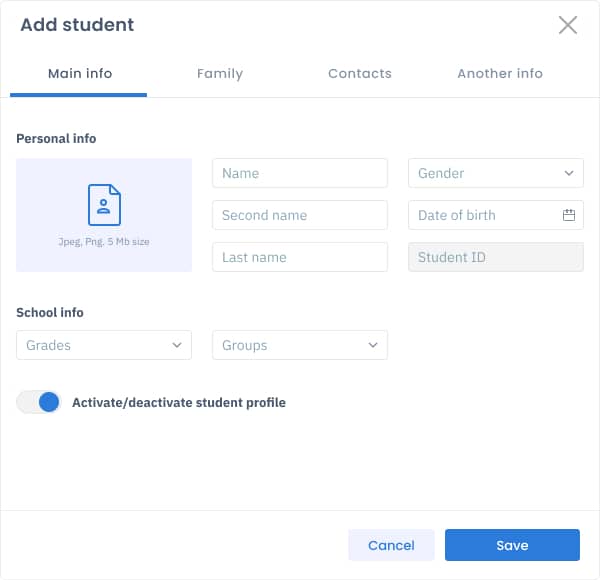 The process is utterly simple. Admin needs just to fill in the form and click on the «Save» button.

Timetable and events management are simple for administrators as for teachers:


to create schedule plans for students and teachers. The same option that teachers have, but administrator is able to assign events and lessons to any teacher and any group of students.




to add and change timetables. Teachers can add and change extra classes and hobby groups events only, but timetables can be changed only by admin. By the way, any additional activities are controlled by admin too.
to monitor teachers' work. LMS allows us to control classroom attendance, sick days and vacations. It is a pretty simple system, which allows admin to keep an eye on everything connected to the organisational process of education. Also admin can check the working hours of every teacher and see his workload.
For example, that's how teachers sick days can be marked. It's much more useful than paper documentation, because all statistical data is accessible with just a few clicks.


For example, that's how students sick days can be marked. It's much more useful than paper documentation as for teachers.

Administrator can collect all types of reports on educational and organisational processes. From a simple student's progress report of for detailed analysis of educational process per term or year.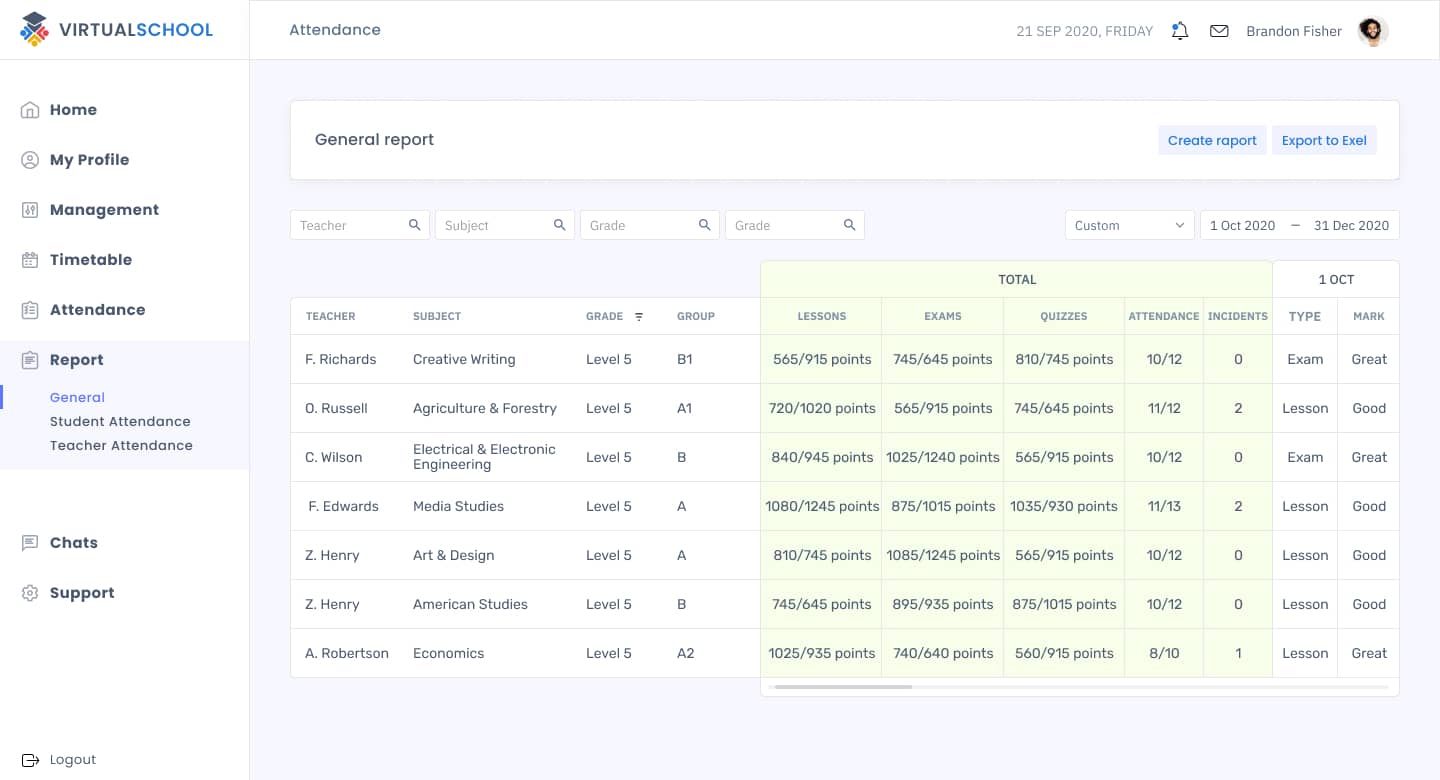 As a result, the learning management system allows to simplify the educational process for all groups of users. Students and their parents receive all data they need, teachers get instruments to set workflow processes as they want, and administration is able to control any part of this process easily.

Nowadays LMS is an integral element of the educational system. And we predict that in about 10 years every second school in Europe will use learning management systems. Future of education is already here.